Big Grips Lift
for iPad
Grab, hold, carry
with ease.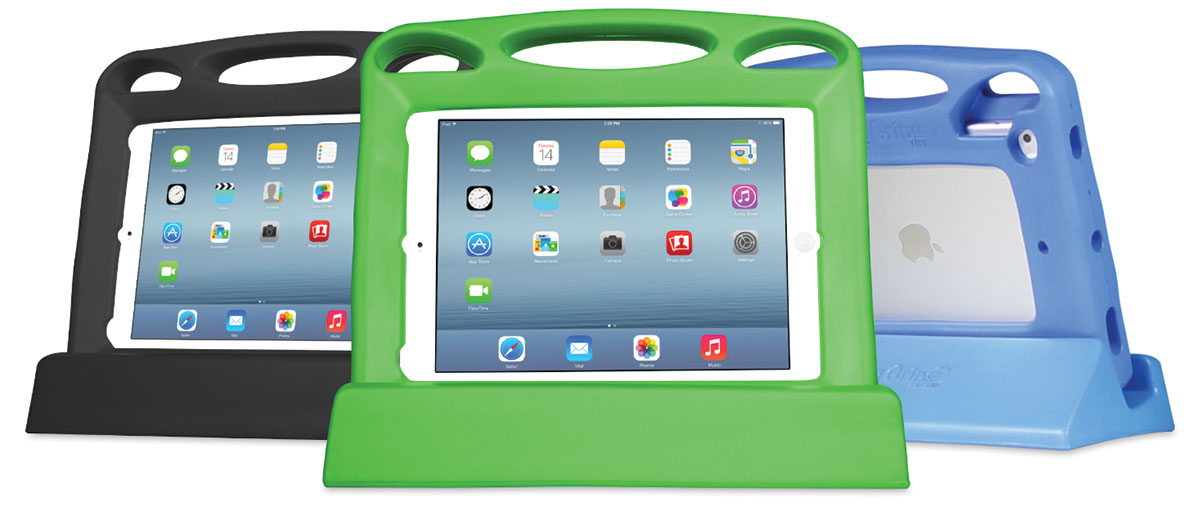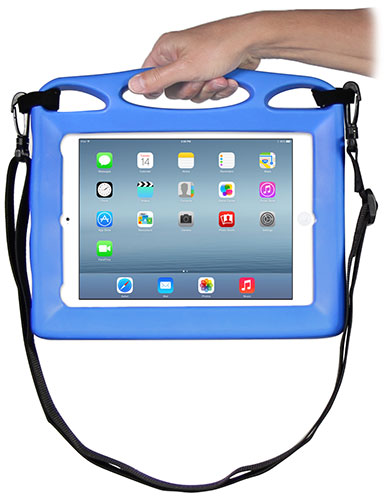 Big Grips Lift for iPad
shown with optional shoulder strap.
Big Grips Frame pioneered the extra-large, super-protective iPad case in 2011. Big Grips Lift is the next generation of big, squishy, uber-protective case for iPad featuring a super-grip handle and integrated strap loops that make it even easier to grab more, and worry less.
Big Grips Lift Is
Non-toxic
Free of BPA, lead and latex
Free of Phthalates and PVC
Resistant to oils, stains, molds and germs
Durable, lightweight and easy to clean
Weight Matters, A Lot
Big Grips Lift is light. This is important—really important. Apple goes to insane lengths and huge expense to shave grams off iPad because iPad is meant to be held. When your iPad needs protection, it makes sense to use a case that is very protective but doesn't add unnecessary weight. We are confident Big Grips Lift offers the best protection-to-weight ratio available.

Dimensions shown are for Big Grips Lift for iPad and iPad Pro.
In This Case, Bigger is Better
Big Grips Lift adds 1.5 inches of foam protection and .625 inches of front and back clearance to iPad, so you won't have to worry when your iPad tumbles.
Easy Access
Big Grips Lift has been designed so that charging and volume adjustments are easily accessible without sacrificing protection. And, of course, all sensors, microphones, and cameras are free to do their sensory stuff.
That Oh So Good Feeling
In your hands, Big Grips Lift simply feels better. Made of a special composition of plastic foam, Big Grips Lift feels comfortably familiar yet quite different than any other iPad case. Imagine a soft, supple, almost leathery texture—not hard or rubbery.
A Standing Ovation
Big Grips Lift for iPad Air and iPad Pro works with the original, versatile, and remarkably stable Big Grips Stand. Whether working at a desk, prepping meals in the kitchen, or lounging on the bed, Big Grips Stand is holding steady.
Some iPad cases come with a built-in "prop" that, in addition to adding extra weight, kind of works like a stand—except when it breaks off, or when you touch the iPad and it falls over, or when it only sits in one orientation, or... Well, you get the idea.
Details, Details, Details.
Big Grips Lift for iPad 10.9-inch (10th generation 2022),
iPad 10.2-inch (9th 2021, 8th 2020, and 7th 2022 generations),
iPad Air (5th 2022, 4th 2020, and 3rd 2019 generations),
iPad Pro 11-inch (2018),
iPad Pro 10.5-inch (2017)
Dimensions: 11.75" x 9.75" x 1.5" (298 mm x 248 mm x 38 mm)
Weight: 11.8 oz. (335 g)
Big Grips Lift for iPad (6th 2018 and 5th 2017 generations),
iPad Air 2 (late 2014),
iPad Air (2013 and 2014)
Dimensions: 11.25" x 9.625" x 1.5" (286 mm x 245 mm x 38 mm)
Weight: 11.3 oz. (320 g)
All Big Grips products come with a 1-year limited warranty.
Join the Gripsters
Announcements, giveaways, events and groovy stuff.